Comparative Assessment of Different Commercially Available Artemether-Lumefantrine 20/120mg Tablets in Kaduna State, Nigeria.
https://doi.org/10.51412/psnnjp.2023.37
Keywords:
Artemether-Lumefantrine (AL), Tablet, Quality Assessment, Kaduna State
Abstract
Background: The problems of fake drug proliferation in Nigeria have affected the credibility of the healthcare system and can exert very harmful effects on the consumer resulting to illness, disability and even death which anyone can be a victim. Malaria is a major public health problem in Nigeria and accounts for an estimated 225,000 deaths annually.Artemether-lumefantrine combination remains the first line artemisinin combination therapy (ACT) for treatment of malaria as recommended by World Health Organization (WHO). This study assessed the quality of the various brands of ArtemetherLumefantrine tablets to determine if these products contain the level of active ingredient claimed on the label as well as determine their conformity with specified requirements in the pharmacopoeia. It also determined the percentage content of the various brands using developed HPLC method.
Method: Physical assessment studies, pharmacopoeia test (weight uniformity USP and Dissolution BP) and non-pharmacopeial tests; (hardness, disintegration and friability) were carried, and the percentage content of the active ingredients obtained using developed and validated HPLC method.
Result: The physical assessment tests showed that all artemether-lumefantrine brands conformed to NAFDAC stipulations for packaging and labelling. All the brands passed weight uniformity test, disintegration and friability tests, while 33.4% of the sampled brands failed the hardness test. The result of the dissolution profile for Artemether-Lumefantrine indicated that all samples complied with official standard.Assay of active ingredients using HPLC showed that only 50% ofArtemether sample and 55.6% of Lumefantrine sample met the International Pharmacopoeial7 percentage content requirement of 90% - 110% for bothArtemether and Lumefantrine.
Conclusion: The need to continuously assess the quality of commercially available medicines for use by the populace cannot be overemphasized due to safety reasons. 
References
World Health Organization (2010). World Malaria Report. https://apps.who.int/iris/bitstream/handle/10665/ 44451/9789241564106_eng.pdf? sequence=1
Adjei GO, Goka BQ , Rodrigues OP , Hoegberg LC ,Alifrangis M , Kurtzhals J (2009). Amodiaquine-associated adverse effects after inadvertent overdose and after a standard therapeutic dose. Ghana Medical Journal, 43(3):135-138 https://doi.org/10.4314/gmj.v43i3.55340
Alubo SO. Death for Sale: a study of drug poisoning and deaths in Nigeria. Social Science Medicine, 1994; 38(1): 97–103.
Bate Roger, Hess Kimberly. (2010) Anti-malarial drug quality in Lagos and Accra - a comparison of various quality assessments. Malar J. 11; 9:157.
Mbahurike A. A., Azike N. R. and Ukweze S.E. (2017). Assessment of Quality of Commercial Artemether-Lumefantrine Tablets in Rivers State, Nigeria. World Journal of Pharmaceutical Research 6 (4), 274-200.
Onalo, VD, Danraka, A and Stephen, MC (2021). Quality Assessment of Some Brands of Levofloxacin 500mg Tablets Commercially Available in Gwagwalada, Abuja Scholars Academic Journal of Pharmacy (Sch Acad J Pharm) 10(3): 43-48
International Pharmacopoeia, 2003 3rd Edition 5:18-27 https://vdocuments.net/internationalpharmacopoeia-2003.html?page=1 8. British Pharmacopoeia, 2009, (5) 371-372.
Danraka, AM, Akpan AE, Shingin KM, NdianaAbasi SI, (2022). Evaluation of Drug Pricing in Nigeria: A Focus on Affordability and Availability of Essential Medicines in Federal Capital Territory Abuja. Journal of Health, Medicine and N u r s i n g , 9 7 : 1 - 1 0 . https://doi.org/10.7176/JHMN ISSN 2422-8419
Asuamah, S.Y., Prempeh, V.O., & Boateng, C.A. (2013). A Study Of The Purchase And Consumption Of Counterfeit Drugs In Ghana: The Case Of Marketing Students In Sunyani Polytechnic? International Journal of Innovative Research And Development, 2 (5). Retrieved from https://www.semanticscholar.org/paper/A-Study-Of-The-Purchase-And-Consumption-Of-Drugs-In- AsuamahPrempeh/c66551626d0b77f5378f0350106a1cea71456c78
Ilomuanya, M. O., Mbaneme N. A., Okubanjo O.O., Ofokansi, K.C. (2015) In vitro equivalence studies / comparative assessment of generic metronidazole tablets commercially available in Lagos, Nigeria. British Journal of Pharmaceutical Research 2015; 7(3): 196-205 https://doi.org/10.9734/BJPR/2015/18572
Ndidi C. Ngwuluka, Nedal Y. Abu-Thabit, Onyinye J. Uwaezuoke, Joan O. Erebor et al. Natural Polymers in Micro- and Nanoencapsulation for Therapeutic and Diagnostic Applications: Part II - Polysaccharides and Proteins https://doi.org/10.5772/intechopen.95402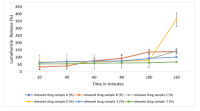 How to Cite
Rayyanu, U., Danraka, A., & Adamu, G. (2023). Comparative Assessment of Different Commercially Available Artemether-Lumefantrine 20/120mg Tablets in Kaduna State, Nigeria.: https://doi.org/10.51412/psnnjp.2023.37. The Nigerian Journal of Pharmacy, 57(2), 765–773. Retrieved from https://psnnjp.org/index.php/home/article/view/501
License
Copyright (c) 2023 The Nigerian Journal of Pharmacy
This work is licensed under a Creative Commons Attribution-NonCommercial 4.0 International License.