Bacteriological Evaluation Of Nigerian Currency Notes From Selected Handlers In Ilesha Metropolis Of Osun State, Nigeria
https://doi.org/10.51412/psnnjp.2023.15
Keywords:
Bacterial isolates, Contaminated currency notes, Bacteriological evaluation
Abstract
Background: Peoples from various background and from difffferent works of life with difffferent hygienic status always engaged in  physical transactions with a legal tender of varied denominations for exchange of goods and services, and one of the legal tender  offiffifficially recognized in Nigeria is called naira. This study evaluated bacterial contaminants onnaira notes in circulations from  selected handlers with specifific profession and determined the resistance of the isolates to conventional antibiotic in use. 
Methods: A  total of 160 samples of currency notes 20 each of 8 existing denominations in Nigeria, collected from selected participants  of various professions soaked in ringer's solution were serially diluted, subculture to various bacteriological media, Gram  stained and biochemically characterized. Determination by antibiogram study was carried out,with a view to identifying resistance risk  factors that could be associated with these contaminatedcurrency notes. 
Results: The microbial load was found to be higher in lower denominations irrespective of their polymer status. The total bacterial  count per milliliter varied between 2.28 ×104 and 4.20×107 CFU, while the percentage distributions of isolates; Staphylococcus aureus  (36.8%), Escherichia coli (31.5%), Bacillus spp (3.7%) and Pseudomonas aeruginosa (27.5%) and varied resistance to antibiotics used were  recorded. 
Conclusion: Bacterial antibiotic resistance has been associated with treatment failure, high health cost  burden and loss of manpower  hours due to over hospitalization. The microbial contaminant loads capable of causing opportunistic infection were found to be  present in currency notes examined. The alarming resistance of bacteria to selected conventional antibiotics used in this study, serves  an indication of potential threat of contaminated currency notes to public health.  
References
Ayandele, A.A and Adeniyi, S.A. (2011). Prevalent and antimicrobial resistance pattern of microorganisms isolated from Naira notes in Ogbomosho North, Nigeria. Journal of Research in Biology 8: 587-593
Ayopo (2010) Ayopo OS. Isolation and identification of pathogenic bacteria associated with circulating Naira notes in the Abeokuta Metropolis. Unpublished thesis.
Agarwal A. G, Ingle NA, Kaur N, Ingle E, Charania Z. (2015) Assessment of microbial contamination of Indian currency notes in Mathura City, India: a cross-sectional study. Journal of Advanced Oral Research. 2015;6(3):43–48.
Awe S, Eniola KIT, Ojo FT, Sani A.(2010). Bacteriological quality of some Nigerian currencies in circulation. African Journal of Microbiological Research. 4(21):2231–2234
Yazah A, Yusuf J, Agbo A. (2012) Bacterial contaminants of Nigerian currency notes and associated risk factors. Research Journal of Medical Sciences. 6(1):1–6.
Barua A.A. ,Sabuj A.A., Haque Z.F, Hossain M.T(2019) S. Survey of bacterial contamination and antibiotic resistance pattern of Bangladeshi paper currency notes in Mymensingh city. African Journal of Microbiology Research. 13(10):206–213 hƩps://doi.org/10.5897/AJMR2018.9032
Hudzicki J. (2016) Kirby-Bauer Disk Diffusion Sus c eptibility Te st Protocol 2 (1) 8-11 https://asm.org/getattachment/2594ce26-bd44-47f6- 8287-0657aa9185ad/Kirby-Bauer-Disk-DiffusionSusceptibility-Test-Protocol-pdf.pdf
Emikpe BO and Oyero OG (2007). In-vitro antibiotic sensitivity pattern of some bacteria isolated from Nigerian currency. International journal of infectious Diseases, 2(1): 10-2
Feglo, P. and Nkansah, M. (2010). Bacterial load on Ghanaian currency notes. African journal of Microbiology Research 4:2375-2380.
Vriesekoop F, Russell C, Alvarez-Mayorga B, Aidoo K.Y, Scannell A. (2010) Dirty money: an investigation into the hygiene status of some of the world's currencies as obtained from food outlets. Food borne Pathogensand D isease . 7(12):1497–1502.
Alemayehu H, Ashenafi M. (2019). Microbial load of Ethiopian currency notes collected from various sources. International Journal of Advanced Research in Biological Sciences. 6(4):119–126 hƩp://dx.doi.org/10.22192/ijarbs.2019.06.04.016
Yakubu J.M, Ehiowemwenguan G, Inetianbor J.E. (2014) Microorganisms associated with mutilated naira notes in Benin-City, Nigeria. International Journal of Basic and Applied Science. 3:9–15
Emma LPand David HS(2010) Australia's Plastic Banknotes: Fighting Counterfeit Currency Angewandie Chemie International Edition 49(22):3726-3736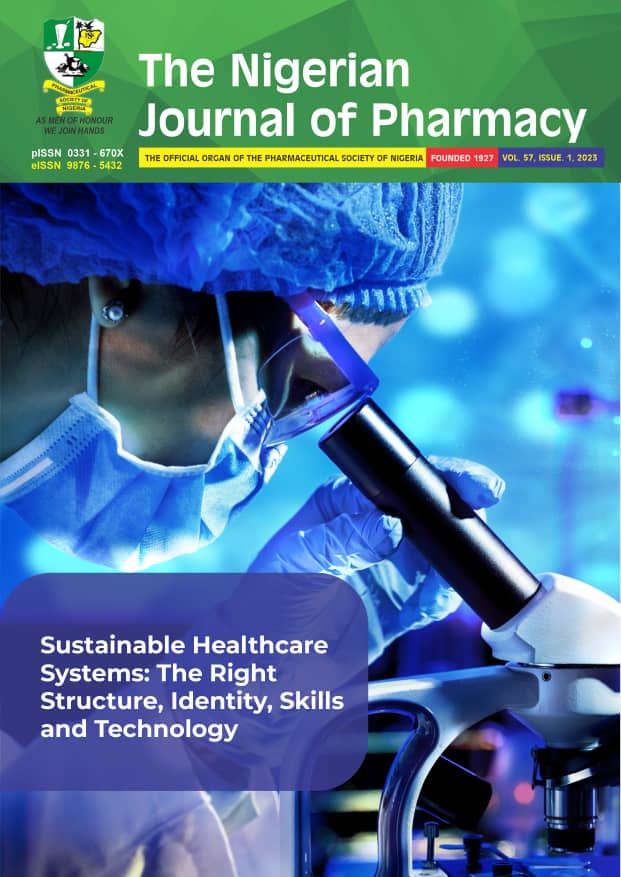 How to Cite
Okunye, O. L., Olufunke, B. C., Ezekiel, A. O., Titilayo, D. M., Joseph, O. O., Seun, A. J., & Asefisoye, S. L. (2023). Bacteriological Evaluation Of Nigerian Currency Notes From Selected Handlers In Ilesha Metropolis Of Osun State, Nigeria: https://doi.org/10.51412/psnnjp.2023.15. The Nigerian Journal of Pharmacy, 57(1), 541–546. Retrieved from https://psnnjp.org/index.php/home/article/view/449
License
Copyright (c) 2023 The Nigerian Journal of Pharmacy
This work is licensed under a Creative Commons Attribution-NonCommercial 4.0 International License.